17/06/2020
How Much Can Forex IBs / Affiliates Earn in the FX Market?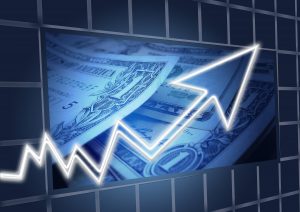 Whether you have already traded forex, or recently stumbled upon the rapidly growing world of online FX trading, you've probably asked yourself, how much money can a forex affiliate / IB (Introducing Broker) earn?
Similar to many questions we receive along the lines of costs and revenue possibilities in the FX market, the amount of commissions a forex affiliate or IB can make depends on several factors. With that said, we are able to provide a basic framework to follow so that you'll have a general idea of the potential earnings available to forex affiliates and IBs. Furthermore, if you would like to receive a more in depth analysis, simply contact us in order to explore this topic further.
Important Factors to Consider when Determining How Much You Can Make as a Forex IB / Affiliate
To start, we'll outline something that many of those new to FX trading may not be aware of: IBs or affiliates are usually paid based on the volume generated by the clients they have referred over. To determine how much an IB in the forex market can earn, you just need to perform some basic math calculations.
Let's consider an example to better understand this concept. In our scenario, we'll say that an IB receives .1 of the spread charged to the trader on a round turn basis, ie 0.05 pips when the order is opened and 0.05 pips when it's closed. If the trader referred over by the IB in this example were to make 100 trades, then the rebate would be as follows: 100 trades X 0.05 = 10 pips. From here, you can simply add in more variables such as the trading volume or number of new clients to see how your revenue grows as more business is referred over time.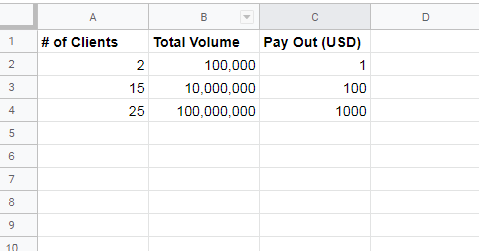 The second point worth noting is that each broker has a unique pay out structure, usually tied to volume. Although each forex broker has their own commission terms, there is a general rule to follow: the greater the volume, the more lucrative the payout. If you are a new IB, don't be surprised if the commission offering by the broker doesn't look spectacular,which is normal. Should your referral business grow over time, any smart broker will do everything in their power to make sure you feel welcome since the volume your referral business generates can easily be transferred to a competing brokerage.
Finally, the location of your traders and overall trading style will play a role in how much money you can earn as a forex affiliate. Traders who are running EAs or algorithms generate significant volumes, just bear in mind that not all brokers permit such strategies. It's also worth noting that long term and medium term traders tend to be more profitable but don't generate the same volume as day traders. Traders with a longer time horizon, though, end up maintaining their accounts for a greater length of time than day traders, mostly due to the risk involved in short term trading.
We bring up these various client profiles so that you can see why it's crucial to target a blend of clients from all backgrounds in your referral business; relying too heavily on a single group of traders will make revenue more difficult to project.
Starting a Forex Broker vs. Becoming an FX Affiliate, Which Path is Better?
A common misconception is that IBs do not earn as much as those starting their own forex brokerages, which isn't entirely true. There are several tradeoffs to consider when building your own forex broker. Generally speaking, we always recommend that new FX brokers start off the process as IBs and only take the leap into starting a broker when there is enough revenue to justify the costs.
The logic behind our suggestion is rather simple. A successful IB only needs to have a marketing campaign, website, and a good sales team to get started. That's really it! When launching a forex broker though, not only are the above requirements needed but much much more. For example, new FX brokers must navigate the ever changing landscape of banking & payments, establish their own white label technology which often includes hefty monthly fees, and potentially consider obtaining a forex broker license. The costs for the services outlined above adds up, which is why you should carefully review all expenses before launching your own forex brokerage.
Atomiq Consulting – Your Partner for Launching a Forex Broker or Becoming an Introducing Broker / Affiliate
If you'd like to become a forex introducing broker (IB) / affilate, please contact us so we can explain how the process works in greater detail. Our team of consultants are happy to share a more extensive breakdown of potential earnings and also provide valuable insight about getting started as a forex affiliate / IB.
Should you wish to take the plunge and start your own forex brokerage, we are more than happy to assist you in getting started as well, simply contact us today. We look forward to hearing from you!
Have a look at some of the additional services our clients have found to be helpful in the growth of their business.