12/02/2015
What Do I Need to Become a Forex Broker? The 5 Most Important Components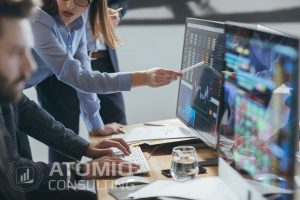 A common question we are asked by those who are new to online forex trading is "how do I become a forex broker?" Because we have successfully helped IBs, fund managers, and entrepreneurs successfully launch their own forex brokerages, Atomiq Consulting is an excellent position to provide guidance on this question. If you are looking to start your own forex brokerage, these 5 guidelines will be helpful in your decision making process.
1. Trading Software – Forex White Label Technology
Trading software, also known as white label technology, is what your clients will use to place orders, analyze the market, and run algorithms, making it an essential component to any forex brokerage. One of the most popular white label providers is MetaQuotes, which provides the MT4 and MT5 technology. There are also other forex trading platforms to consider as well, such as the Condor FX Pro platform. A relatively new addition to the market, the Condor FX Pro platform offers ease of use, versatility, and sleek design elements that will impress both new and experienced traders alike.
2. Liquidity & Price Feed
Liquidity is a term that can appear intimidating on first glance but is actually quite easy to understand. At its most basic level, liquidity refers to both the prices that traders see when they open their trading software as well as the execution of the orders that are placed. It's important to carefully select the liquidity provider you ultimately decide to work with since they will be providing both the pricing and execution of all the orders entered by your clients.
3. Company Incorporation and Bank Account
When establishing a new forex brokerage, you'll need to register the business and obtain a bank account. Selecting the proper jurisdiction to incorporate the new brokerage is important as many regions around the world now require a license. As mentioned, you'll also need to set up a bank account so your investors can send funds to your new brokerage. In some cases it may also make sense to apply for a forex broker license although it is not a strict requirement as you can still launch your broker without first having a license.
4. Forex Broker Website, Trading Cabinet, and CRM
Given the fact that forex is a purely online business, it goes without saying that a website is a critical component for any new forex broker. Although website designers are quite easy to find, we suggest partnering with a firm that understands how to develop forex broker websites, making the website design services of Atomiq Consulting  the ideal fit.
In addition to a website, we'd recommend considering a Forex Trading Cabinet as well. Because you'll need a portal for your clients to view reports, access account information, and initiate deposits & withdrawal, a Forex Trading Cabinet is an excellent complement to your new broker's website. Finally, we are also able to integrate your CRM of choice into our Trading Cabinet, making client onboarding and prospecting a seamless and hassle free operation.
5. Client Support & Sales
A final consideration for your new brokerage is both the support of your existing account holders as well as sales. Like any business, in order to properly grow, it is important to focus on sales. The regions you wish to target, type of language you intend on supporting, and the products your broker offers will all determine how you should grow and scale your sales and support team
Start Your Own Forex Brokerage with Atomiq Consulting
We hope you found these 5 guidelines helpful in deciding the best way to build your forex broker. Founded in 2014, Atomiq Consulting has been helping investors and entrepreneurs successfully launch their own forex brokerages. To learn more about how to become a forex broker, don't hesitate to contact us today!
Have a look at some of the additional services our clients have found to be helpful in the growth of their business.