25/01/2015
How do Forex MAM & PAMM Accounts Work?
Fund managers who invest and trade in the forex market use a specific technology to manage their funds. The technology goes under different names, the most common being MAM. PAMM is another common acronym used to discuss forex money management, and in some rare cases LAMM.
What is a Forex MAM Account?
A good starting point is to define what a MAM account is and then compare it to a PAMM account. MAM simply stands for Multi Asset Management while PAMM is an abbreviation for Percentage Allocation Management Module.
MAM technology will allow a fund manager to invest for an unlimited number of forex investor accounts using a single platform. Managed accounts in MT4 or MT5 are quite common using specific MAM software designed for the MT4 platform, although PAMM accounts can be found in other platforms, too.
If you are interested in professionally managed forex accounts, it is not necessary to understand exactly how the system works. It's helpful though to better understand the technology, which we'll now cover in more detail.
MAM vs PAMM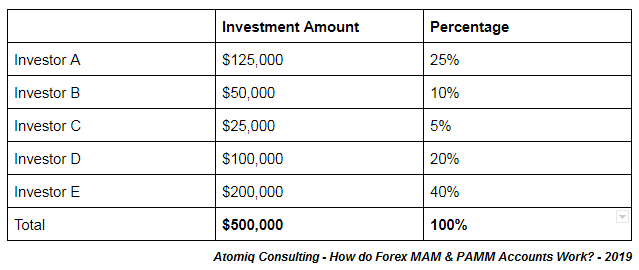 Let's imagine that the asset manager currently has 5 investors as seen in the above table. Whenever the forex fund manager opens a trade, the profit or loss will be automatically distributed across the 5 investor accounts in real time.
The allocation of the profit or loss is where a PAMM account comes into play. In nearly all cases the terms MAM or PAMM are interchangeable, as will soon become apparent.
Looking at the above graph again, we can see how profits or losses will be distributed, namely on a percentage basis. Hence the name Percentage Allocation Management Module.
Taking a simple example, if the money manager were to close out a trade with a $1,000 profit, then Investor A would receive $250 ($1,000 X .025) while Investor B would receive $100 ($1,000 X .1).
Finally, you may come across the term LAMM, which stands for Lot Allocation Management Module. Unlike a PAMM account, a LAMM account allows the broker to control the lot size of each specific investor, which in some cases may be desired by the money manager.
How to Start a Forex PAMM Account?
If you are interested in learning more about forex account management software such as MAM or PAMM, don't hesitate to contact us. As part of our MT4 and MT5 white label services we are also able to add MAM or PAMM technology. In fact, we think offering MAM accounts is an excellent idea when launching your own forex brokerage.
Have a look at some of the additional services our clients have found to be helpful in the growth of their business.