27/09/2022
Apple Stores Removes MT4 and MT5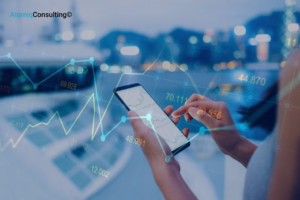 The online forex trading industry is still reeling from the stunning announcement that MetaQuotes software – namely MetaTrader 4 (MT4) and MetaTrader 5 (MT5) – will no longer be available in the Apple store.
Because MetaQuotes is a privately held company, rumors have abounded about the potential cause behind the decision to remove MT4 and MT5 from the Apple store. We do not find speculation behind this decision all that helpful since the die has already been cast and it appears a reversal of the move will not happen any time soon. Rather than add to the rumor mill, we prefer to speculate about the impact the banning of MT4/MT5 will have on the dominant position that MetaQuotes has held in the online forex & CFD space going back over a decade.
How Will The Banning of MT4/MT5 Impact the Market? – #1. Enter the Competition
The most obvious impact of this policy change by Apple is that other market participants will sweep in to replace the void left by MetaQuotes. Because MT4 and MT5 are still accessible on any phone which had the app installed before the decision, the impact will take time to fully sink in. In many ways this is a positive development since it allows brokers time to assess the impact and decide how best to proceed.
It's important be aware of the future for MT4/MT5. As traders purchase new iphones and Apple updates firmware, legacy installations will slowly become more difficult to access resulting in an open invitation for new software vendors to enter the market space.
The MT4/MT5 Apple Store Ban is a Major Blow to White Labels
New market participants, often referred to as white labels, will suffer the largest setback from the decision by apple to remove MT4/MT5 from the Apple store. Any MT4/MT5 white label which was able to receive approval before this change will have a short term advantage over new market entrants, a phenomenon we also witness in the prop trading space.

Over time, however, the white label space will open up to more competition, an example being FDCTech. Our team at Atomiq Consulting is proud to have partnered with FDCTech. Given the red tape and other hurdles involved in obtaining an MT4 or MT5 white label, we believe that FDCTech is the ideal alternative to MetaQuotes technology.
Brokers Will Invest in Themselves
Finally, brokers were truly caught by surprise with this announcement. Having spoken to several prominent, regulated brokers since the decision was passed, it is clear that most capitalized brokers will seek to invest in their own technology. This doesn't necessarily mean that MT4 or MT5 will be dropped, rather it will no longer be the flagship technology offered by the brokerage.
With the above in mind, brokers looking to quickly develop their own technology can also consider having the job outsourced by a technology provider such as FDCTech. Not only is it possible to obtain white label technology, FDCTech can also assist brokers in building their own software from scratch.
Atomiq Consulting – Providing Valuable Insights in Market Disruptions
The decision by Apple to ban MT4/MT5 will no doubt have a long term impact on the direction of the technology space for FX & CFD brokers. Given our knowledge and years of industry experience, we are able to best assess how such changes will impact the market.
If you would like to explore alternatives to MetaTrader, don't hesitate to contact our team today.
Have a look at some of the additional services our clients have found to be helpful in the growth of their business.