24/09/2023
Comoros Forex Broker License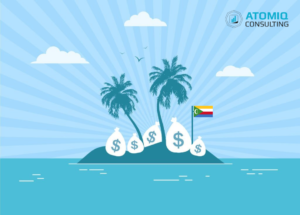 If you have come across our site and are looking to apply for a forex broker license in Comoros, we regret to inform you that no such license exists. While some of our competitors are still offering this license, it is worth repeating that there is no such thing as a forex broker license in Comoros.
A so called Comoros Islands forex broker license has been coming up in discussions with our clients since the beginning of the year. Our consulting team has always been skeptical about the legitimacy of this license. Despite being asked to establish a Comoros license on behalf of several of our clients, we chose to wait until we could investigate in more detail. It turns out that our assumptions were correct.
Comoros Forex Broker License Exposed as Fake
On May 22, the Central Bank of Comoros released a statement clarifying the situation. It turns out that there never was any type of regulation for online forex and CFD trading in Comoros. Instead, several firms falsely promoted this as a legitimate license. Our competitors then began promoting the license until recently when this news broke.
As Fin Telegram News reported: The phony regulator in question was M.I.S.A. known as the Mwali International Services Authority. The Central Bank of Comoros, in its formal communication, has declared: "The Mwali International Services Authority Register of Companies is a fabricated entity with no genuine presence within the Union of the Comoros' jurisdiction. It possesses neither legitimacy nor any lawful foundation or permission to issue licenses for entities functioning in the banking and financial sectors. The sole authority with this mandate across the three islands (Anjouan, Moheli, and Grande Comores) is the Central Bank of Comoros."
What Can We Learn from the Comoros Islands Debacle?
The key takeaway from the Comoros Islands debacle is to seek the advice of experienced consultants like our team at Atomiq Consulting. From day one, we advised our clients to avoid Comoros due to the risks we saw with this license, advising to pursue legitimate and established offshore regions instead. We remain at your disposal should you wish to explore offshore forex broker licensing jurisdictions.
Atomiq Consulting – Forex Broker License Expertise
Founded in 2014, Atomiq Consulting has helped countless forex & CFD brokers apply for offshore licenses across the globe. Our knowledge, industry expertise, and commitment to excellence make Atomiq Consulting the ideal partner for obtaining an offshore forex broker license.
To learn more about the costs involved in obtaining a forex broker license, or speak with one of our consultants, don't hesitate to contact us today!
Have a look at some of the additional services our clients have found to be helpful in the growth of their business.